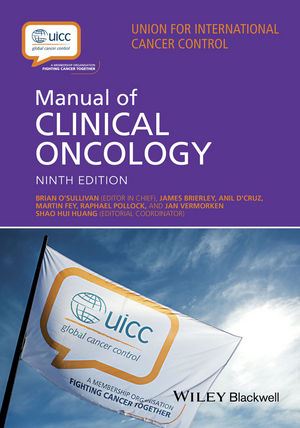 Basic Information:
Year: 2016
Page Number: 856
File Type: PDF
File Size: 11.00 MB
Authors/ Editiors: Brian O'Sullivan
Description:
The Manual of Clinical Oncology, Ninth Edition, published with the International Union Against Cancer (UICC), provides a concise, accessible and feasible reference covering state of art multidisciplinary clinical oncology in order to meet the needs of clinicians caring for cancer patients throughout the world.
Edited by world-renowned practising oncologists and written by key opinion leaders, this book contains authoritative and up-to-date information on cancer detection, diagnosis and treatment alongside topics such as survivorship, special populations and palliative care.
Remodelled and revised for the ninth edition to provide practical information to oncology workers, the UICC Manual of Clinical Oncology is structured in two parts. Part 1 covers general principles of cancer diagnosis and management with additional attention to special settings in oncology, including supportive care and survivorship, and Part 2 covers site-specific multidisciplinary cancer management. The edition includes up-to-date summaries of all treatment modalities (medical, surgical and radiation) for all tumour sites. It also contains the latest TNM classifications outlined in the TNM Classification of Malignant Tumours.
User's Review:
Brian O'Sullivan is a Professor in the Department of Radiation Oncology at the University of Toronto, Toronto, Ontario, Canada. He also holds the Bartley-Smith/Wharton Distinguished Chair in Radiation Oncology in the Department of Radiation Oncology at the Princess Margaret Cancer Centre, University of Toronto. He is the Head and Neck Oncology Program Chair at Princess Margaret Cancer Centre, the co-Chair of the US NCI Head and Neck Steering Committee, Coordinating Center for Clinical Trials, CTEP, and a full standing member of the Commission of the International Commission on Radiation Units (ICRU). He is the recipient of numerous international awards, and research grants. He has published almost 300 peer reviewed papers, in excess of 50 book chapters, and has written or edited 6 oncology textbooks. His interests include sarcoma and head and neck cancer, translational research, IMRT delivery and the principles of image guided radiotherapy, chemo-radiotherapy and molecular targeting. He is a member of the TNM Committee of the Union for International Cancer Control (UICC), Chair of the UICC Prognostic Classification Sub-Committee and represents the UICC as liaison in several oncology sites to the American Joint Committee on Cancer (AJCC).
Keywords
Free Download UICC Manual of Clinical Oncology 9th Edition in PDF format
UICC Manual of Clinical Oncology 9th Edition PDF Free Download
Download UICC Manual of Clinical Oncology 9th Edition 2016 PDF Free
UICC Manual of Clinical Oncology 9th Edition 2016 PDF Free Download
Download UICC Manual of Clinical Oncology 9th Edition PDF
Highly recommended by UnitedVRG: The most trusted provider which has been around since 2016